Digital operations: Introducing our online services
REV WORLDS <Smartphone app using VR>
Launched March 2021
This is a communication platform for virtual cities. The smartphone app "REV WORLDS" allows users to access virtual cities - some areas of the Shinjuku East exit area and Isetan Shinjuku Main Store - which have been replicated, anytime 24 hours a day from a smartphone. Customers (users) can enjoy shopping from a broad selection of cosmetics, general merchandise, food, and women's clothing at the virtual Isetan Shinjuku Main Store in the app as an avatar. By clicking on the product on the app, you will be transitioned to the Isetan Mitsukoshi Online Store and will able to purchase the actual product.

You can also enjoy changing your avatar according to the mood of the day, and use the chat function to enjoy conversations with friends, family, and users you meet for the first time in the app. At the virtual Isetan Shinjuku Main Store, customers can experience "a shopping experience that can feel a connection with people" online by, for example, being welcomed by an avatar stylist created by 3D scanning the actual stylists at Isetan Shinjuku Main Store and receiving customer service using standard text.
MOO:D MARK by ISETAN < Online gift shopping service >
Launched October 2019
Online gift boutique MOO:D MARK offers a new gift buying experience with a range of over 3,500 gift items, as well as ideas showcased according to themes such as occasion—like wedding, new baby, or birthday—and recipient.
The site offers a host of convenient services, such as the Social Gift Function*1, where customers can send a gift without knowing the recipient's postal address, recommended gift lists generated by answering only three questions, and a Gift Concierge, where customers can consult with Isetan buyers and stylists in detail about a gift.
*1 Social Gift Function: A service that enables customers to send a gift via social media or e-mail without needing to know the recipient's postal address.
meeco < Online cosmetics store >
Launched February 2019
"meeco," Isetan Mitsukoshi's online cosmetics store stands for "Meet cosmetics, meet the new me." It also provides information on arrival dates and reservation openings for new and limited-edition products, plus information on makeup-related trends. In addition to meeco, which offers an impressive lineup of limited-edition luxury cosmetics and information on the latest trends, there is also meeco variety, which offers smart options to incorporate trends using low-priced cosmetics. Even during times when it's difficult to go outside, these services offer a way for customers to purchase both luxury and low-priced cosmetics online.
ISETAN DOOR < Scheduled home-delivery service >
Launched June 2018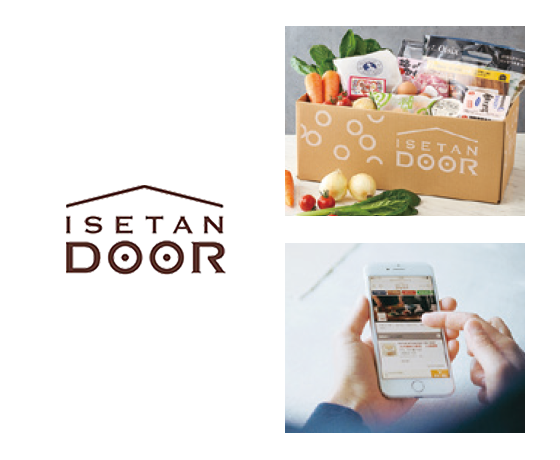 This scheduled home-delivery service is a new proposal-based online service to enrich the lives of customers with the offers and variety of Isetan. It offers approximately 5,000 items curated by Isetan buyers and stylists, from popular department store sweets to delicatessen items, fresh foods and other daily sundries, as well as specials linked with in-store campaigns, and foods to help support moms and moms-to-be.
For the convenience of women who are busy with work and household duties, orders can be easily made via smartphone or computer, and delivery scheduled at a specific date and time according to the customer's preference.
Since its launch, the service has been widely popular, especially with women working in the Tokyo area.