New personal services utilizing digital technology
Customer experiences enabled through digital technology
Initiatives at Isetan Shinjuku Main Store, Mitsukoshi Nihombashi Main Store and other stores
YourFIT365  A stress-free shoe shopping experience
The Isetan Shinjuku Main Store reopened its women's shoes floor in August 2019 with the theme of "Finding the perfect pair for me," and launched the new YourFIT365 service to seamlessly link online and offline (in-store) shopping.
This is a personal fitting service for women who want to look their best in pumps, or who have trouble choosing shoes. It uses digital technology to measure the foot, then matches customers with the most suitable products and allows them to consult with expert specialist stylists, for a stress-free shoe shopping experience.
■ Offline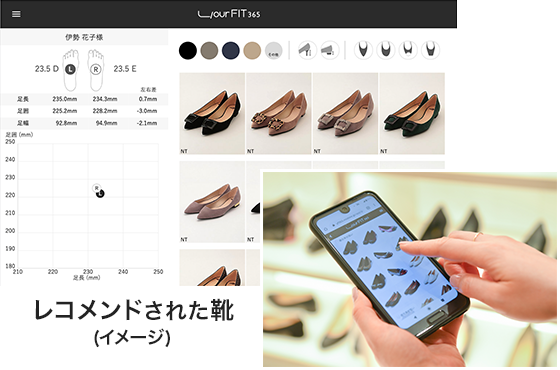 In the store, a 3D foot scanner measures and visualizes the data from a customer's feet, which are then matched to data of digitized wooden shoe forms. Products available in-store or in stockrooms are then recommended, and the customer is shown the most suitable shoes from both ready-to-wear and custom order ranges.
Shoe counselors and other expert stylists not only measure customer data, but also help find the pair that best matches the customer's sense and personal taste, beginning with pumps—where comfort is an essential factor. Working with 25 brands from Japan and around the world, the store has access to the data of wooden shoe forms from around 2,000 ready-to-wear pumps that can be recommended to customers.
■ Online
足型データ画面(イメージ)
Foot data measured in-store can be viewed on the Mitsukoshi Isetan app to obtain recommended products that suit the customer's feet, making it possible to purchase them online anytime and anywhere.
In-store services can also be booked via the website or the app.
The service is available at five stores: Isetan Shinjuku Main Store, Mitsukoshi Nihombashi Main Store, Mitsukoshi Ginza Store, Niigata Isetan, and Nagoya Mitsukoshi Sakae Store (as of January 2021). The same service was opened for men starting in March 2020, and the YourFIT365 ISETAN MEN'S service is now available at the Isetan Shinjuku Main Store Men's Building.
Match Palette  Styling service to help choose the right clothing
This free service was launched in July 2020 at the Isetan Shinjuku Main Store in the women's clothing department. It uses a 3D scanner to measure body size , allowing stylists to use that information to advise customers on clothing. The 3D scanner completes measurements in just five seconds, and visualizes the sizes of 18 areas as well as body characteristics in a 3D avatar. Using this data, customers are offered suitable styling advice according to their needs.
With the help of expert customer service and styling advice, customers can spend less time shopping around and deliberating over what to buy, and they are offered the optimal styling to meet their needs out of a selection of 20,000 clothing items from approximately 100 brands at the Isetan Shinjuku Main Store. Customers can also choose items online that suit their body shape, offering a new style of shopping that can be enjoyed both on and offline.